Business Development Representative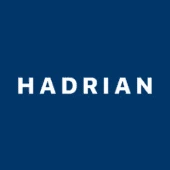 Hadrian
Sales & Business Development
Los Angeles, CA, USA
Posted on Saturday, September 16, 2023
Hadrian - Manufacturing the Future
Hadrian builds software-defined high precision component factories for the top aerospace companies in the world. After a successful customer beta phase, we are substantially scaling our operations to our second factory (based in Torrance) and are in the final stretch of building our core software engineering and product team from whom the future of Hadrian will be built upon. This team will leverage various current and advanced technologies and build custom in house software solutions to help improve, automate and scale the future of manufacturing in the U.S.
We are in search of individuals with the drive to augment manufacturing heping enable our engineers build complex, yet elegant software as well as the machinists who have a passion to push the trade forward.
We've raised >$100m to achieve this vision, with multiple rounds from Lux Capital, A16Z, Founders Fund, Construct Capital, Caffeinated Capital and more.
Hadrian is building autonomous factories that help aerospace and defense companies make rockets, jets, and satellites 10x faster and 2x cheaper. Our CEO, Chris Power, discusses the importance of what we're building in
this video
.
We are a lean but mighty team of 100 (and growing!) people that are passionate about building critical infrastructure to support the nation and the advancement of humanity.
Hadrian's mission is to reshore American manufacturing and support our country in doing whatever we can to win Space Race II. In this role, you'll work on expanding our customer base and be the first set of BDR hires responsible for growing our organization to new heights. The ideal candidate will be responsible for managing a pipeline, growing accounts, and ensuring client satisfaction, retention, and growth while representing our company's products and services in a professional and ethical manner.
In this role you will:
Proactively research and identify potential leads and prospects amongst a small set of top accounts
Initiate and maintain contact with prospects through various communication channels, including phone calls, emails, and social media
Engage with prospects to understand their business needs and challenges, and effectively communicate how our solutions can address those needs
Maintain a deep understanding of Hadrian's internal capabilities and services to effectively present them to potential customers
Maintain accurate records of all interactions and activities in our CRM system (Salesforce), and provide regular reports on lead generation and conversion progress
Keep up-to-date with industry trends, including news articles covering developments at target companies, changes in market dynamics, and other information that will enable effective outreach
Work closely with the paired Account Executive on onboarding activities, including but not limited to project managing contract negotiations and powerpoint presentations at sales meetings
Requirements for the role:
3-5 years of experience in Sales, Business Development, Client Success, Investment Banking, Financial Services, or Consulting
Degree in Industrial, Mechanical or Aerospace Engineering a plus, but not required
Experience with Salesforce and Outreach is preferred
Excellent communication, interpersonal, and organizational skills
An enthusiasm for cold-calling prospects and a willingness to hop on the phone with new people every day and explain Hadrian's value propositions it relates to each individual you speak with
Ability to work independently and collaboratively as part of a team
Compensation and Benefits
For this role, the target salary range is $90,000 - $120,000 (actual range may vary based on experience).
This is the lowest to highest salary we reasonably and in good faith believe we would pay for this role at the time of this posting. We may ultimately pay more or less than the posted range, and the range may be modified in the future. An employee's pay position within the salary range will be based on several factors including, but not limited to, relevant education, qualifications, certifications, experience, skills, geographic location, performance, and business or organizational needs.
In addition to salary and equity, we offer:
• 100% coverage of platinum medical, dental, vision, and life insurance plans for employees
401k
• Relocation stipend if you're moving from outside of LA
• Flexible vacation policy
ITAR REQUIREMENTS:
To conform to U.S. Government space technology export regulations, including the International Traffic in Arms Regulations (ITAR) you must be a U.S. citizen, lawful permanent resident of the U.S., protected individual as defined by 8 U.S.C. 1324b(a)(3), or eligible to obtain the required authorizations from the U.S. Department of State. Learn more about the ITAR
here
.